Automated storage system with unrestricted movement, for transforming the future of the logistics industry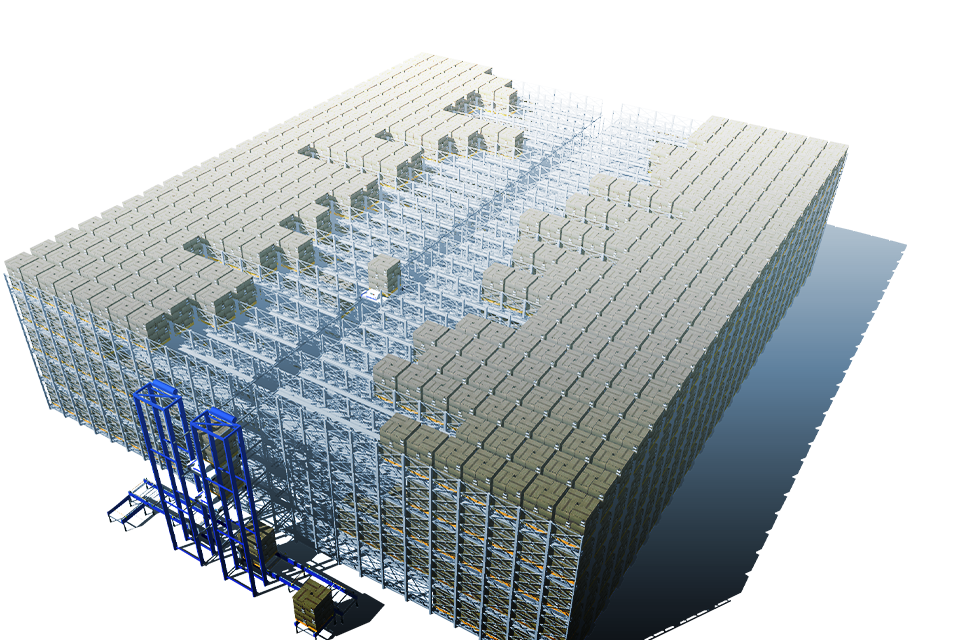 In recent years the logistics industry has struggled with a lack of available personnel due to factors like the growth of online shopping, etc. Demand for automated operations is also increasing, and warehouses with limited space need to be designed with systems in place to allow storage of a broad range of items. Sumitomo Heavy Industries Material Handling Systems has developed an automated storage system for the transportation of stored items that consists of two automatic guided units. This result is an automated system designed for warehouses that previously relied on manual workers due to space constraints, helping to resolve issues related to labor shortages and provide an innovate approach to work methods.
Unrestricted movement within storage racks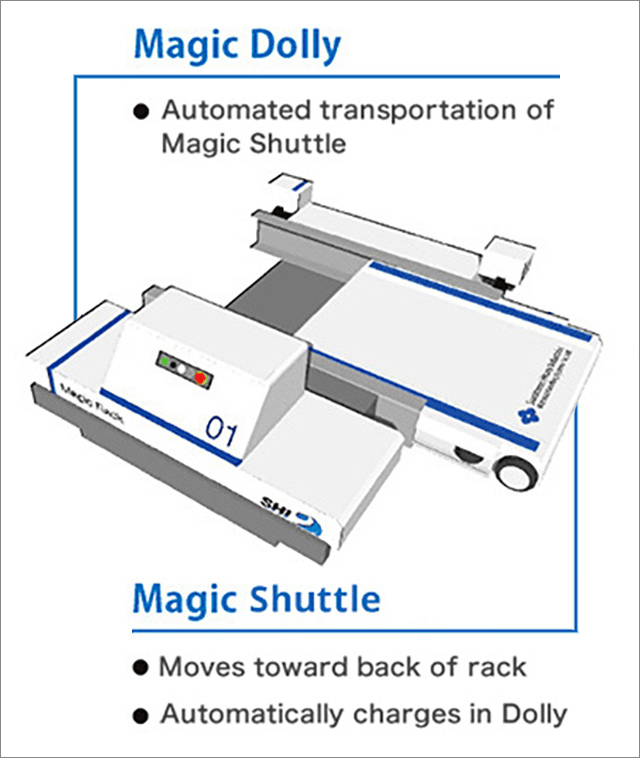 While there has been an increase in methods used to enhance the operating environment at warehouses based on automatic guided vehicles (AGV) and information communication technology (ICT), there have been few advances in automation at warehouses that have limited space. Sumitomo Heavy Industries Material Handling Systems sought to address this issue, and spent two years developing and marketing the "Magic Rack" automated storage system designed to suit logistics warehouses. Consisting of two main units - the automatic guided "Magic Shuttle" that carries items and the "Magic Dolly" - this system allows for unrestricted movement within the storage racks. Magic Shuttle uses a compact lithium-ion battery that enables the Magic Dolly to be recharged, which means stored items can be transported without any downtime.
Group Leader Takaaki Sakamoto of the Logistics System Sales Division explains one of the key points of development: "We made sure to keep the thickness of the guided units to a minimum, to allow all the space to be utilized in full, even in warehouses with low ceilings."
Effective use of space to double the storage capacity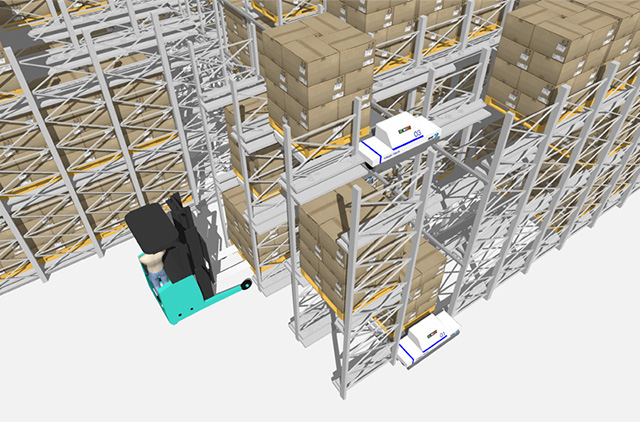 More than simply automating warehouse transportation and storage operations, "Magic Rack" is a system that can also improve storage efficiency. Access ways that were used by forklifts took up valuable storage space, and eliminating them doubles the storage capacity of previous systems. Another advantage of the system is that it is easy to retrofit into existing buildings, and storage racks can even be installed in complex L-shaped buildings to make full use of wasted space all the way up to the ceiling.
The system also sorts through stored items automatically at any time of day, and all forklift operators have to do is load items onto trucks. In logistics warehouses, forklift operators waste a lot of time driving around looking for items or open shelves, resulting in truck drivers spending a lot of time waiting for items to be loaded. "Magic Rack" helps to improve such work areas.
Establishing new areas of logistics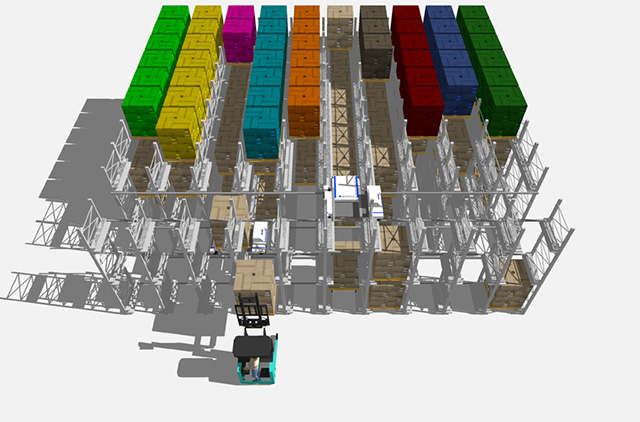 One of the major challenges during the development of "Magic Rack" was how to control multiple Magic Dollies and Magic Shuttles at the same time: Magic Dolly needs to move appropriately as the Magic Shuttle transports stored items. Group Leader Sakamoto explains: "Our company has spent a lot of time developing AGVs and complex parking facilities, and has also developed the technology and know-how required for operating such complex units. This expertise has been applied to 'Magic Rack.'"
Until now, Sumitomo Heavy Industries Material Handling Systems has honed its expertise in fields calling for transportation of special items or operational technology like transportation systems developed for the steel or electronics industries. With "Magic Rack," the company hopes to move beyond these industries and expand into the logistics business where demand for automated operations continues to grow. "We are always keen on taking on new challenges, and will be creating a new business model for the logistics sector," says Group Leader Sakamoto.
*

"Magic Rack" is registered trademark of Sumitomo Heavy Industries Material Handling Systems Co., Ltd.

*

All contents are as of the time of the interview.