For a company to achieve continuous sustainable growth, it is essential to improve work environments and health management systems so that each employee can maintain their good physical and mental health and continue to work actively.
SHI Group is implementing various health support measures, including the introduction of health guidance and health management support systems by occupational health workers, based on the activity plan for creating healthy workplaces.
SHI Group's Declaration on Health Promotion
SHI Group will strive to maintain and improve the health of workers based on the management philosophy of "respect for human beings," and create the environment where everyone can live in good physical and mental health.
Health and Productivity Management Promotion System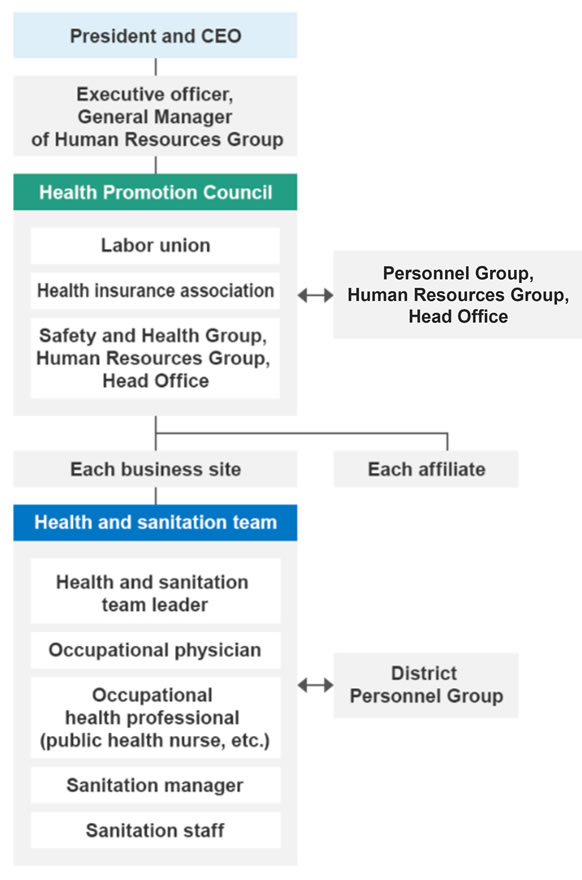 We are promoting health and productivity management with the following system , with President and CEO serving as the Chief Health Manager. The Health Promotion Council, consisting of the Safety and Health Group, the labor union, and the health insurance union, share issues related to occupational health and health promotion, and promotes various health management activities such as maintaining and improving employee health and implement measures to create workplace that is healthy both physically and mentally.
Health and sanitation teams at major manufacturing sites and Group companies are integrating the measures into their own issues and deploying them.
The Health Promotion Council shares with the Central Safety and Health Council the "Healthy Workplace Development Activity Plan," which sets specific goals for healthy workplace development activities, and the "Health Management Report," which summarizes the activities for the fiscal year.
Introduction and Operation of the Health Management Support System
Seeking to promote health management, we introduced and started operation of a system, "Sukoyaka Support", for digitizing and unifying the medical checkup results of all employees. We will manage employees' health examination data over time and use it to support employee health in a wide range of areas, from mental to physical illnesses.
Promoting Measures to Address Mental Health Problems
Based on the results of stress checks, we offer care and mental health training for employees with high stress levels. We also offer comprehensive face-to-face guidance to employees working long hours while improving systems to help people return to work after taking medical leave.
Measures to Address Cardiovascular Diseases
To thoroughly manage and offer guidance to employees with untreated high blood pressure, etc., we recommend high-risk employees (those who require medical care or a detailed medical checkup) to receive medical checkups.
And occupational health professionals and their superiors are working to ensure thorough follow up to "persons requiring medical treatment".
Implementation of Health Promotion Programs
We implemented an employee health promotion program (trial) to prevent lifestyle-related diseases and about 500 people participated. Going forward, we will expand the coverage of these programs to help employees make exercise a daily habit. At the same time, we will work together with the health insurance association to actively encourage participation of those who are subject to specific health guidance (who require active support).
Promoting Measures to Prevent Secondhand Smoke
The following measures are being implemented to reduce employee health risks and prevent secondhand smoke. We will continue to make efforts to create a healthy and comfortable workplace for every employee.
Maintenance/renovation of smoking areas in our building: Reduced the number by 80% (FY2019)
Implementation of regulatory compliance and annual checks for each smoking area (each year)
Implementation of smoking education (each year)
Establishment of consultation counters related to secondhand smoke (business divisions and SHI Group companies)
FY2020 Survey Results (entire SHI Group)
| Number of employees on care leave/administrative leave (persons) | Care leave/administrative leave rate (%) |
| --- | --- |
| 74 | 0.57 |
Ratio of total number of hospitalizations to number of employees (%)
(Cumulative total of January - December 2020)
1.1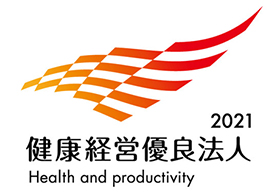 2021 Health Productivity Management Outstanding Organization

On March 4, 2021, we were certified as a "2021 Health Productivity Management Outstanding Organization (Large Enterprise Category)" selected jointly by the Ministry of Economy, Trade and Industry and Nippon Kenko Kaigi (Japan Health Council).