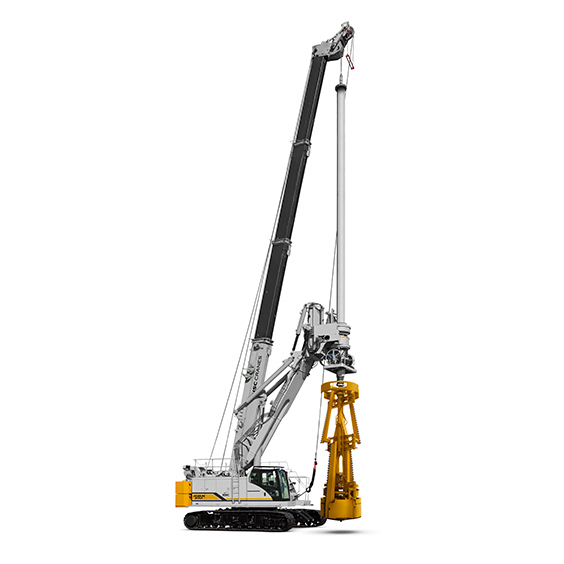 Foundation machines for breaking through hard ground
Winner of the Nippon Brand Prize from the Nikkan Kogyo Shimbun, Ltd. at the 46th Machinery and Industrial Design Award Presentation
Machines used at construction sites to build piles (columns) to support structures such as commercial buildings and condominiums
HSC offers a lineup of construction equipment such as earth drills based on crawler cranes designed specifically for the construction of foundations for structures at various construction sites. In recent years, there has been an increase in the number of construction projects where earth drills prove useful, such as urban redevelopment and the construction of a new structure following the dismantling of an existing structure or an underground structure. HSC's SDX612 Earth Drill, a telescopic boom type drilling machine, won the Nippon Brand Prize at the 46th Machinery and Industrial Design Award Presentation sponsored by the Nikkan Kogyo Shimbun Ltd. Business and Technology Daily News.
Click here for detailed information about Foundation machines
1

Environment-friendly

Machines for building our future society require the most advanced technology. Fitted with a clean and energy-efficient engine newly developed to meet increasingly stringent exhaust gas regulations, HSC's crawler cranes have taken yet another step toward harmony with the environment.

2

Easy to transport and set up

Machines for foundation work have to be moved from jobsite to jobsite. HSC's foundation work machines are designed for easy assembly and disassembly, while achieving enhanced basic performance, so that the requirements of stringent transportation regulations can be met. Assembly and disassembly cost reduction features include an automatic attachment/detachment capability.

3

Powerful yet safe

As structures become larger and seismic strengthening projects increase, cast-in-place piles tend to become larger in diameter. HSC's earth drills have an excavation torque large enough to drill holes for those piles and are equipped with a powerful winch suitable for such drilling operation. Safety features including a large display system and reliable and timely voice alarms ensure a higher level of safety.

4

Reliable after-sale services

A two-year (or 2,000-hour) warranty comes with HSC's crawler cranes so that they can be used in a reliable manner over a long period of time. The remote sensing function for remotely monitoring the machine and operation conditions helps detect defect information beforehand so that maintenance time and cost can be reduced.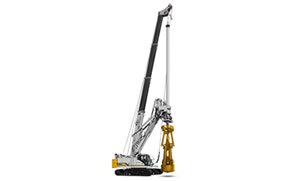 Soil Improvement Machines
For detailed information about the products please contact
Phone
International service department, Sumitomo Heavy Industries Construction Cranes Co., Ltd.
Web
Sumitomo Heavy Industries Construction Cranes Co., Ltd.