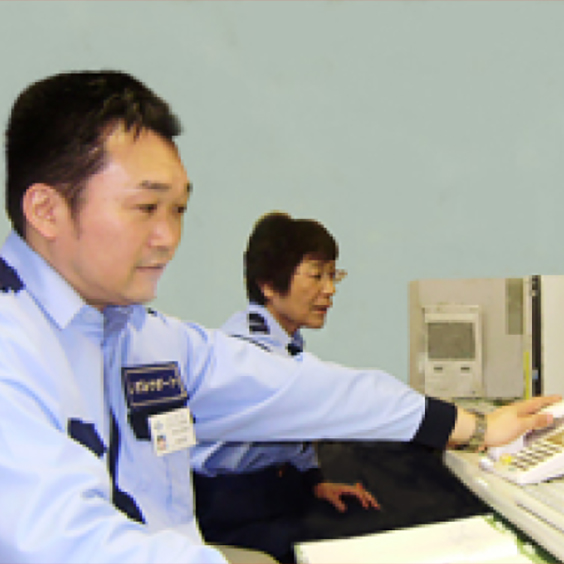 Security and safety services delivered
We provide solutions with the utmost consideration for security, safety, and improvement of operational efficiency to our customers,based on the expertise we have cultivated within the SHI Group.
1

Equipment security duties

Various sensors are installed in facilities that are subject to security surveillance, such as the offices and buildings of our customers, which are monitored and guarded from the base stations of the SHI Group around the clock.
When an abnormal incident occurs, such as an intrusion by a suspicious individual, sensors detect the incident, and on-duty security guards are immediately dispatched from the closest standby station, while law enforcement and emergency responders are also notified of the emergency depending on the situation.

2

Facility security

Security guards are posted permanently at a building, manufacturing plant, or school to control entry to and exit from the facilities, to guard against intrusion by suspicious individuals and to prevent accidents.

3

Traffic direction and crowd control security

Vehicles are directed at the entrances and exits of construction sites or parking lots to maintain the safety of pedestrians and other vehicles.
People and vehicles are also given directions or guided during events or festivities to alleviate congestion and to prevent accidents.

4

Security patrols

Security guards patrol offices, stores, buildings, or manufacturing plants at regular and irregular intervals for inspections and to verify safety.

5

Failure responses

The status of equipment and devices installed at remote locations outdoors or indoors is monitored at all times. When an abnormal incident occurs, the status is verified and recovery actions are taken rapidly.

6

Video monitoring

Cameras are installed in secured areas to transmit video images to SHI Group base stations, where they are monitored and warnings are issued when an intrusion by a suspicious person is detected. Two-way communication can be undertaken with visitors by installing a microphone or other appropriate equipment.
Installation case example
1The following is an example of installation in a building where the first floor is an office, while the second and third floors are residential space.
Various installation plans are available to suit different building conditions, as well as customers' budgets and goals.
Please contact the SHI Group for more information.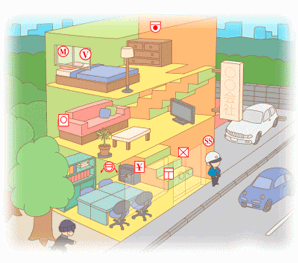 Passive sensors (infrared sensors)

These are sensors that are installed on ceilings or other locations to detect the body temperature (by infrared) of any suspicious individuals intruding into the secured perimeters, and send out warning signals.

Magnet sensors

These are sensors that are installed on windows and other locations that can be opened, to detect intruders. They consist of two components, the switch and the magnet. Sensors detect the opening or closing of the window, and then send out warning signals.

Shutter sensors

These sensors are installed on shutters in parking garages and warehouses to detect the opening and closing of such shutters.

Glass fracture sensors

These sensors detect damage to window glass and jolts, and send out warning signals.

Transmitters

These are devices that control sensors that have been installed at secured perimeters, and send signals concerning abnormal incidents via online connections to SHI Group base stations. The controller at the base station receives the signal notifying the station of an abnormal incident, and then issues a dispatch order. Security guards who receive such orders are immediately dispatched to the site.

Card readers

Card readers are used to activate or de-activate security functions from outside the secured perimeter. These are ordinarily installed near entrances and exits, where cards are read before activating or de-activating security functions.

Emergency alarm buttons

These buttons are installed at inconspicuous locations, such as under desks or counters. They are used to notify outside parties of the occurrence of abnormal events inside.

Heat and smoke detectors

These detectors are installed on ceilings for early detection of fires. The sensors send out warning signals when they detect that temperature or heat has exceeded a certain level.

Safe sensors

These sensors detect when a safe has been moved or toppled over, as well as when the safe doors have been opened, and send out warning signals.
For detailed information about the products please contact
Phone
Izumi Support Corporation
Web
Izumi Support Corporation