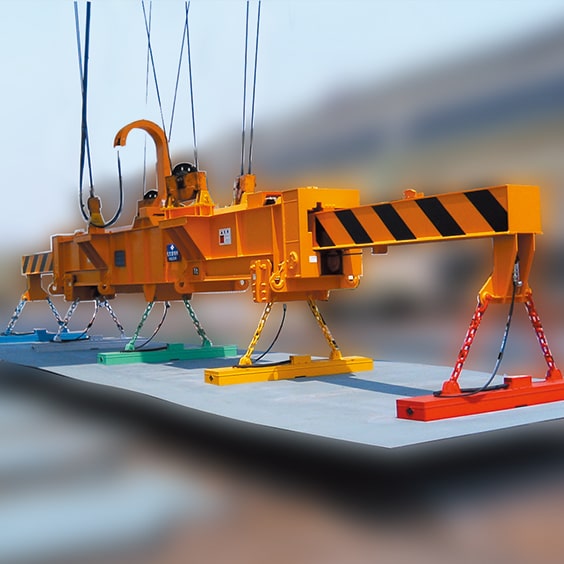 SHI Group contributes to improving transport efficiency for steel products
We play an important role in transporting materials and products during the manufacturing process.
Lifting magnets are currently essential for the transport of steel products and iron scrap at steel mills, shipbuilding yards, and metal recycling plants. Lifting magnets are capable of hoisting and transporting the required number of steel sheets in one operation, thereby significantly improving work efficiency. Automation is also possible by utilizing computer controls, which reduces labor as well.
Click here for detailed information about Lifting Magnets
1

Reliable technology

The SHI Group was the first in Japan to manufacture a lifting magnet back in 1928 and since then, various lifting magnets have been developed to meet the requirements of our customers. Other than steel mills and shipbuilding yards, our lifting magnets are used widely in plants that handle steel and iron across Japan today and they receive highly favorable evaluations.

Lifting magnets capable of automatically sorting out a number of sheets

The "polarity switching type" of lifting magnets has multiple magnetic polarity structures and it is able to transport the intended steel plates automatically by combining its capacity of switching the polarity of each magnetic pole and regulating the electric current to each magnetic pole. These lifting magnets are also capable of performing operations equivalent to conventional manual sorting. Furthermore, various lifting magnets, such as lifting magnets for hoisting steel plates, slabs, billets, strip coils, rolling steel, pipes or steel bars, are available.

Lifting magnets for scrap

Other than chain hoisting or attachments for hydraulic excavators, numerous types of lifting magnets to suit the needs of our customers, such as submerged use or high temperature use, are available.

2

Support framework for peace of mind

The SHI Group is the manufacturer with the largest market share in Japan, with organizations performing development through to after sales services, in order to cater to our customer's requirements.
The manufacturing site is located in Niihama City, in Ehime Prefecture, while nationwide support is provided in Japan from service sites in Tokyo and Osaka.
For detailed information about the products please contact
Phone
Industrial Equipment Div.