The Sumitomo Heavy Industries (SHI) Group strives to develop mutually constructive and sound relations with business partners.
In addition to conducting fair, impartial, and transparent transactions on our own, we promote sustainable procurement throughout the entire supply chain so that our business partners are encouraged to engage in initiatives for sustainability in a spirit of respect for human rights and compliance.
CSR Procurement Guidelines (Overview)
1

Human rights, labor practice, Occupational Health and safety

Respect for human rights and prohibition of unfair discrimination, unreasonable labor conditions, and harassment
Compliance with labor-related laws and regulations

2

Open and fair competition and trade practices

Realization of open and fair competition and trade practices
Protection and respect for intellectual property
Prohibition of provision of illicit profit
Compliance with laws and regulations related to import and export
Maintaining confidentiality

3

Compliance with laws, regulations, and social ethics

Compliance with business laws
Severance of relationships with anti-social forces

4

Improvement of product competitiveness and customer satisfaction

Ensuring quality and safety
Strengthening of product competitiveness
Development and operation of a system that enables a stable supply of products and services

5

Consideration for the environment

Compliance with related laws
Efforts to achieve zero environmental incidents
Contribution to the realization of low-carbon society

6

Information disclosure to promote communication with stakeholders
CSR Procurement Promotion System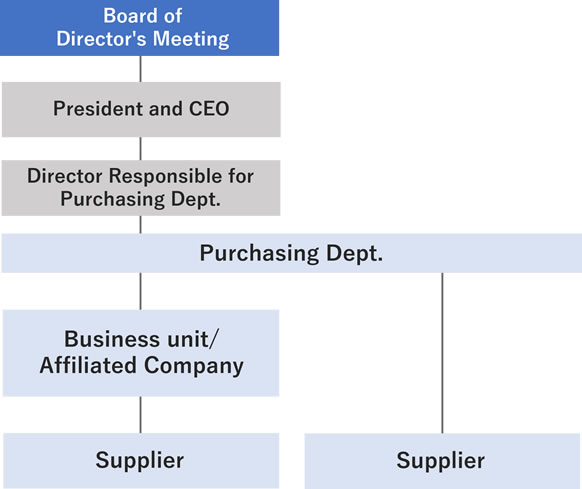 The Purchasing Department exercises overall control over group-wide CSR procurement in cooperation with the Sustainability Department.
At the same time, the Purchasing Department in the Head Office centrally purchases materials and accordingly asks business partners involved in central purchasing to implement Sustainability.
CSR procurement by business units and companies affiliated with the SHI Group is implemented by those divisions and companies in cooperation with the Purchasing Department.
Approaches to CSR Procurement Implementation
Approaches within the SHI Group
Briefings to business unit and affiliated companies
Scope

The procurement departments of business unit and affiliated companies
FY2017
Business unit
PTC Group, Plastics Machinery Div., Industrial Equipment Div., Precision Equipment Group, and Energy and Environmental Group
Affiliated Companies
Sumitomo Construction Machinery, Sumitomo Heavy Industries Environment, Sumitomo Heavy Industries Material Handling Systems, and Shin Nippon Machinery
FY2018
Business unit
Mechatronics division
Affiliated Companies
Sumitomo Heavy Industries Marine & Engineering, Sumitomo Heavy Industries Process Equipment, Sumitomo Heavy Industries Ion Technology, Nihon Spindle Manufacturing, and Sumitomo Heavy Industries Construction Cranes
Procurement Manager Meeting
This meeting is hosted by the Purchasing Department twice a year as a meeting across the SHI Group.
Through this meeting, we explain, and disseminate policies for sustainability, procurement compliance, and human resource development, which concern the entire SHI Group.
| | |
| --- | --- |
| Most recent meeting date | Friday, November 20, 2020 |
| Participants | The officer in charge of Purchasing, the responsible persons of the procurement departments in each business unit and affiliated company. |
The Purchasing department provides CSR procurement training as part of an education course for procurement departments' personnel.
The subjects include sustainability, basic knowledge of CSR procurement, importance of efforts, and specific actions required.
Establishment of CSR Procurement Guidelines
We share information on the SHI Group's approaches for sustainability and CSR procurement with suppliers.
Number of participating companies
FY2017
296 companies
FY2018
275 companies
Questionnaire Survey on Approaches for Sustainability
We conduct a questionnaire survey of randomly selected domestic suppliers regarding their initiatives for sustainability.
In addition, a request for improvements is sent out to each supplier that has responded to a questionnaire.
| | |
| --- | --- |
| Number of responding companies | 288 companies |
Declaration of Partnership Development
Approaches for Responsible Mineral Procurement
In an effort to preclude any involvement in the procurement of conflict minerals, the SHI Group formulated "SHI Group Basic Policy on Conflict Minerals Mined in the Democratic Republic of the Congo and Adjoining Countries" and has explored necessary systems and measures in accordance with this basic policy.
Henceforward, we will have the mentioned policy carried on and developed further and, on the basis thereof, engage in responsible mineral procurement by avoiding any involvement in the procurement of tin, tungsten, tantalum, or gold mined, refined, or commercialized in any conflict area or high-risk area with human rights violations, forced labor, child labor, abuse, environmental destruction, corruption, and humanitarian assistance.
SHI Group Basic Policy on Conflict Minerals Mined in the Democratic Republic of the Congo and Adjoining Countries
In the Democratic Republic of the Congo (DRC), anti-government armed organizations use forced labor to mine tin, tungsten, tantalum, and gold (hereinafter "Conflict Minerals"), and use proceeds from such minerals as funds for their activities.
In addition, organized violence against local residents is raised as an international issue of concern.
On August 22, 2012, the Securities Exchange Committee (SEC) adopted the "Final Rule on Disclosure Regulations for Conflict Minerals" as a procedure related to Section 1502 of the Dodd-Frank Wall Street Reform and Consumer Protection Act, which was enacted in July 2010.
As a result, a listed company in the U.S. is required to report the use of Conflict Minerals in its products every year.
In order to fulfill our social responsibilities, we do not participate in the procurement of conflict minerals.
The SHI Group will promote considering necessary systems and measures in accordance with this policy.
Our business partners are requested to understand our policy and cooperate on our efforts.
We will endeavor to provide products with less environmental load by promoting green procurement.