Research & Development (R&D)
To realize our corporate mission of being a machinery manufacturer that provides excellent products and services all across the world, we are continuing to invest in both research product development as part of our "Medium-Term Management Plan 2023", which kicked of at the start of the 2021 fiscal year.
At Sumitomo Heavy Industries, new products are developed cooperatively by the Technology Research Center (TRC) and Sumitomo Heavy Industries business divisions using a consistent process in which the TRC is responsible for researching Core and Elemental technologies, after which specific Application technologies are developed by business divisions.
The Corporate Technology Management Group, which is responsible for all Sumitomo Heavy Industries Group technologies has four internal departments. The Product Planning & Technology Management Group is responsible for overarching R&D strategies, the Intellectual Property Dept. is responsible for all matters related to intellectual Property (IP), the Production Engineering Center handles production technologies and practices, and together with the TRC is responsible for driving R&D efforts for the whole of the Sumitomo Heavy Industries Group.
Collaborative framework between the Corporate Technology Management Group and Business Divisions
The Corporate Technology Management Group cooperates closely with Business Divisions through each of its four organizations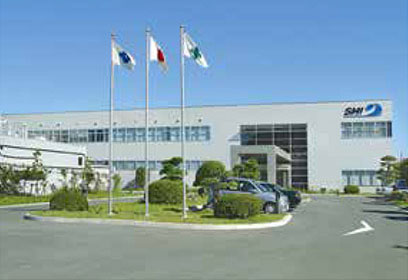 Yokosuka

19 Natsushima-cho, Yokosuka-shi, Kanagawa 237-8555 Japan

Contents

Mechanical Structure Technology, Mechanical Systems Technology, Production and Process Technology, Quantum and Cryogenic Technology, Environmental and Energy Technology, Material Technology, CAE and Simulation Technology, Sensing and Information Processing Technology, System Control Technology

TEL

+81-468-69-2300

FAX

+81-468-69-2357

Niihama

5-2 Sobirakicho Niihama, Ehime 792-8588 Japan

Contents

Material Technology,System Control Technology

TEL

+81-897-32-6272

FAX

+81-897-32-1417
Intellectual Property is the source of the Sumitomo Heavy Industries Group's competitiveness. The Intellectual Property Department coordinates with all divisions of Sumitomo Heavy Industries to procure global IP and protect trade secrets. Recently, the IP Department has also played an important role in mergers and acquisitions, and handling due diligence and contracts with outside entities.
Sumitomo Heavy Industries has installed a CIPO (Chief Intellectual Property Officer) to increase the cohesiveness of management practices with IP efforts. The CIPO is chosen from among directors of the TRC and business division engineering department directors and works alongside the IP Department to develop midterm IP strategies to ensure continued competitiveness.