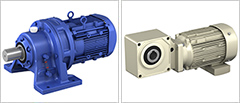 Power transmission and control equipment raises torque as the rotary speed of a motor is reduced to an optimum level. This kind of equipment has many applications, including elevators, escalators, industrial robots and factory production lines. SHI produces a wide range of power transmission and control devices, from micro-miniature devices with a motor capacity of 6 watts to very large devices of several thousand kilowatts. SHI has the leading share of the Japanese market for this equipment.
Precision positioning stages
Precision positioning stages set the vertical and horizontal positioning of substrates, wafers and other components in precision processing. Because two axes are involved, they are also called XY stages. These products are used for manufacturing and inspection processes for liquid crystal panels and semiconductor wafers. SHI's high-precision positioning stages are one of its particular strengths.
Plastic injection molding machines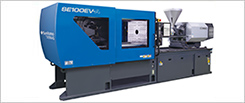 Plastic injection molding machines are used to pour melted plastic into molds. Of the two system types, hydraulic and electromotive, the latter enables greater molding precision. SHI specializes in the precision, high-cycle molding required for manufacturing optical discs and connectors and has the top-class share in Japan for these devices.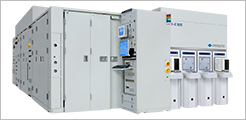 Semiconductors are made by forming minute transistor structures on the surface of a thin plate of single crystal silicon called a wafer.
In order to provide electrical characteristics in the microstructure, it is necessary to implant the required type and quantity of elements to the wafer. Ion implanters electrically ionize elements and accelerate them at high voltage for high-precision implantation into wafers.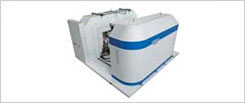 A cyclotron is an accelerator for particles that it ionizes using magnetic force. SHI is the only manufacturer of these devices in Japan and has the top share of the domestic market for cyclotrons for positron emission tomography (PET) applications, which are highly effective in discovering and pinpointing cancer cells.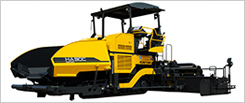 Self-propelled machines used to spread asphalt when paving roads; SHI is the market leader in asphalt pavers in Japan.

This is a self-propelled crane for construction sites. It travels on crawler tracks.
Continuous ship unloaders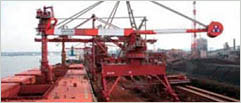 Continuous ship unloaders are large harbor-installed hoists used for the continuous unloading of iron ore and other bulk raw materials from cargo vessels at dock. SHI has the top share of this market in Japan.
These are large cranes installed at harbors and shipyards and travel on rails. SHI has the top share of the domestic market.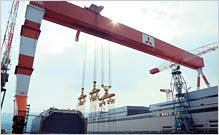 This is a large portal-type crane installed mainly in shipyards. Our Goliath crane has a maximum lifting capacity of 1,200 tons and helps raise the efficiency of shipbuilding operations. SHI has the top share of the domestic market
Transfer cranes (RTG), Remote Automated RTG


Self-propelled cranes used to transport containers at ports and other sites. Remote Automated RTG allows remote automatic operation by the operator performing necessary operations/monitoring from a remove operation room away from the container yard.
Deep storage method high density automated warehouse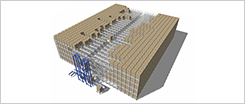 The deep storage (multi-layer) method, in which multiple pallets are stored within the same lane without gaps, achieving high storage efficiency. SHI was the first company in Japan to develop automatic warehouse using this method.
AGV (Automatic Guided Vehicle)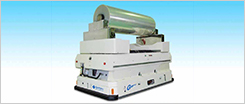 This is an autonomous vehicle designed to transport load. SHI was the first company to develop a system to perform full automatic transport, attachment/removal, and storage of rolls in a clean environment and has the world7s top share.
CFB Boilers (Circulating Fluidized Bed Boilers)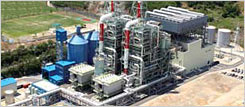 Employing jets of air blown from below to evenly mix fuel particles at a high temperature, this CFB boiler is an efficient combustor suitable for use with a wide variety of fuels. The CFB boiler can even burn such renewable energy fuels as low-grade coal and biomass-based fuels.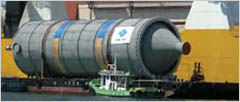 This equipment is used in oil refining to extract high-value-added light oil from heavy oil that is subjected to heat cracking after refining. SHI has the world's leading share in coke drums.
Superfine-bubble membrane tube diffusers

Superfine-bubble membrane tube diffusers are used for aeration systems at sewage treatment facilities. The use of a high-quality silicon rubber membrane for the diffuser tubes contributes to the high performance and durability of the systems.

Used in water treatment processes, these systems direct air to polluted water, helping bacteria to break down substances more efficiently. The operation of SHI vertical aerator systems can be optimized for the volume of water being treated, and SHI boasts the top share of these products in Japan.
Aframax tankers, Suezmax tankers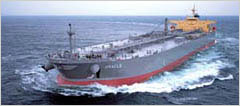 Aframax tankers are midsized oil tankers with deadweight freight capacity in the 80,000 to 120,000MTDW class; 150,000MTDW class tankers are called Suezmax tankers.