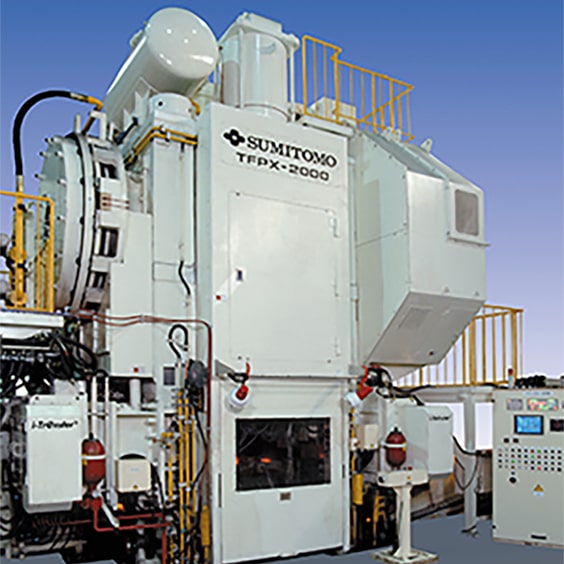 Forging presses are machines that generate pressure to forge materials.
They are used to manufacture parts with complex forms that must have high strength and high rigidity.
Products of each series have been designed with an emphasis on rigidity, to heighten their reliability for forging accuracy. Forging presses available from the SHI Group are in active use in a variety of forging situations both inside and outside Japan, both manual and automated, ranging from versatile standard equipment to specialized equipment created in response to individual requirements, as well as from compact models to the largest equipment of the type in the world. The SHI Group will continue to clear the way for the future by pursuing "high quality", "high speed", "high yield" and "environmental and energy conservation" at all times.
Click here for detailed information about Forging Presses
The products of the series adopt a unique structure, borne out of the new concept, "simple, slim and compact".
This is a new and epoch-making series of products that achieved a "reduction of height and number of parts by 30%" in comparison with conventional models, with upgraded high rigidity, high precision and high reliability. (2,000 tons to 4,500 tons)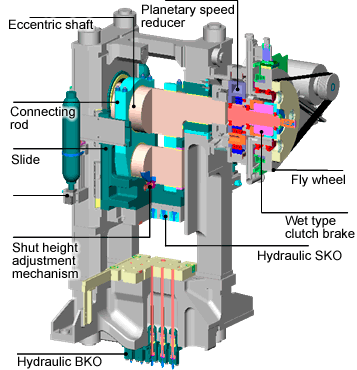 Slim and compact design

Press installation conditions are alleviated.
Building and foundation construction costs reduced.
Maintenance workability improved.
Attention to detail to realize high precision

Gap created by thermal expansion of the "X" slide guides minimized.
Hydraulic balancer adopted to achieve zero rattle.
New type shut height adjustment mechanism with superior responsiveness incorporated.
Environmentally considerate wet type clutch brake

Noise reduced (from 95db to 85db).
Lining life is semi-permanent.
Improvement of productivity is an extremely crucial topic for cost reduction of forged components. The SHI Group will be offering various components and peripheral devices that incorporate latest technologies. We invite you to look forward to our ever evolving products.
Wet type clutch brake i-CL@B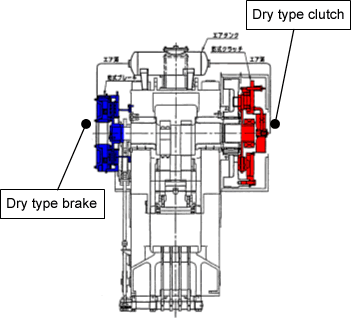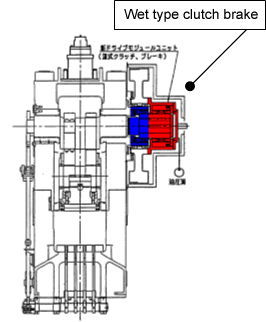 Noise and vibration have been reduced significantly in comparison with dry type, making it a technology that is considerate for production work operations, as well as for the earth. Customers who are already using these have rated them favorably.
This is a standard feature for the FPR Series products. It can also be fitted to products of other series, as well as products of other manufacturers*.
*

This may depend on the tonnage of the equipment. Please consult us for details.
Front and rear separated transfer: i-Tr@nsfer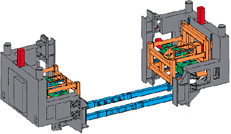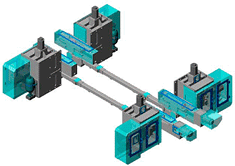 The maintenance space at the central area between the front and rear bars has increased significantly in comparison with conventional types.
More flexible input side design is possible due to the expanded freedom in design of the charge equipment. Furthermore, due to the improved centering performance, upgrading from the conventional "spring + spring type" to "fixed + spring type" is possible. Faster and stable operation in comparison with conventional models has been attained due to the sophisticated damping control technology for fast speeds.
Other than the above, comfortable forging operations are supported by the equipment loaded with new technologies!
We strive to offer our customers the best solutions, and bring smiles to their faces through the combination of unceasing development of new technologies and manufacturing technologies nurtured at our large scale manufacturing plants.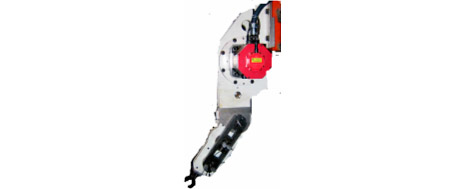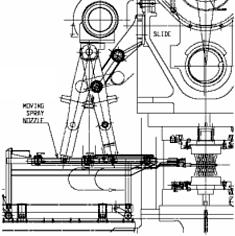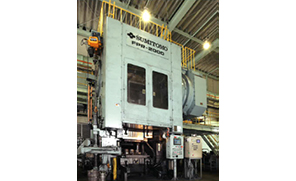 FPR Series
Up to a maximum of "30% off height and number of components" in comparison with conventional models. The series with upgraded high rigidity, high precision and high reliability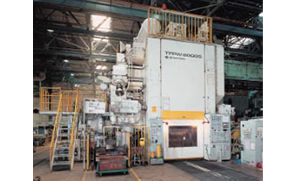 FPW Series
A two-point structure with wide bed and high rigidity, featuring a timed knock out stick release device as standard equipment.
For detailed information about the products please contact
Phone
Industrial Equipment Div.