Products
Driver for RS-485 Modbus RTU Added to Lineup of smartris - Drive Solution for AGV/AMR
October 01, 2021
To the "smartris" drive solution for AGVs (Automatic Guided Vehicles) and AMRs (Autonomous Mobile Robots), Sumitomo Heavy Industries, Ltd. (President and CEO: Shinji Shimomura) will add a driver equipped with RS-485 Modbus RTU. Sales will commence on October 1.

■About RS-485 Modbus RTU
Conventionally, smartris lineup had a driver equipped with CANopen as the interface with the host controller. RS-485 Modbus RTU, which will be added on this occasion, belongs to RS485 type which is widely used for FA machines. This feature has been added in response to many requests from customers especially in Japan and the Asia region. The dimensions, mass, standard specifications, motor for driving, and transducer type do not differ from the conventional product. Furthermore, there is no effect on the handling of the gearmotor and the cables for connecting the motor with the driver.

■About smartris
smartris is a new product developed from the fusion of the reduction gear expertise we have cultivated, and the servo control technology achieved by Lafert S.p.A., a Sumitomo Heavy Industries Group company. This safe and compact drive solution is a gear, servo motor and driver in one package that is optimal for the driving of AGVs and AMRs, realizing travel and portability performance for various types of AGVs/AMRs.

●Lineup
Output
Size
Reduction Ratio
CO LINE
Gear Output Shaft Rotation
S
21, 25, 29
M
21, 25, 29
PRO LINE
Ring Gear Housing Rotation
M
22, 26
L
22, 26, 30
●Selectable Specifications
Transducer: Resolver [standard] / Absolute encoder [optional]
Brake: PM brake (for holding) [standard] / Spring brake (for holding) [optional]
Communication Method: CANopen, RS-485 Modbus RTU
Safety function: STO (Safe Torque Off) [optional]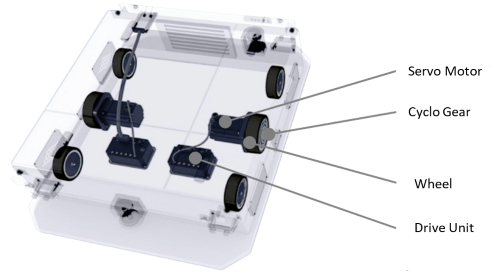 ■Website
Sumitomo Heavy Industries | Shaping the future together Page
https://www.shapingthefuturetogether.com
smartris | solutions for AGV/AMR | Product Page 
https://japan.sumitomodrive.com/en-jp/product/agv-smartris