NEWS
First Unit of New Model Forging Press Delivered
September 15, 2010
Sumitomo Heavy Industries Techno-Fort Co., Ltd., (Headquarters: Niihama City, Ehime Prefecture; President: Kohei Takase; wholly owned subsidiary of Sumitomo Heavy Industries, Ltd.) delivered the first unit of the new model forging press in the FPR series to Chuo Industries, Ltd., in Hiroshima Prefecture.


The FPR series forging press is a hot forging press for the next generation, created out of a pursuit for simple, slim and compact features. In order to achieve a simple, slim construction, the number of parts was reduced by 30%, in comparison to conventional models. This was made possible through a review of the conventional structure, which led to a maximum of a 30% reduction in the total height of the 4,500-ton press (from 12.0m to 8.4m), thereby improving its maintainability and operability, while also contributing towards saving space in facilities and reducing installation costs. Even though the press is made in a more compact size than conventional models, it offers a performance that exceeds conventional models and also features versatility.

Furthermore, a high-precision X-gib, hydraulic balancer and a late model shut-height adjustment mechanism are features to further improve the forging precision and quality*1.

In addition, the clutches and brakes of conventional models were dry-type air-operated devices, but the FPR series incorporates a newly developed wet combination-type, which significantly reduces noise and vibration*2.

Such achievements were evaluated favorably and this press won the Superior Technology Award in the Superior Technologies Division of the Shikoku Industrial Technology Grand Prix 2009 earlier this year.
We will continue to make efforts to please our customers in the future by developing products that meet the market's demands of improving forge quality, caring for the environment and improving workability.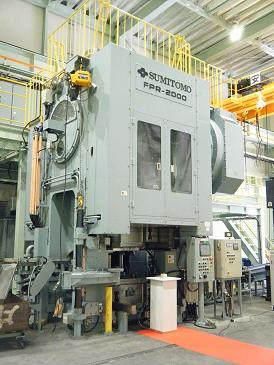 [Supplementary explanations]
*Note 1:
Gib:
A guiding plate for the slide (component that undergoes a back and forth motion with an upper die attached). It is a part that secures a certain clearance to ensure smooth operation of the slide. The effect of thermal expansion on an X-gib is minimal, allowing the positional precision for dies to be more accurate.

Shut-height:
The distance between the lower surface of the slide and the upper surface of the bed (base on which the lower die is mounted) at the bottom dead center.

* Note 2:
Clutch and brake:
A clutch is a piece of equipment for transmitting and blocking the motive energy of the motor to the slide. A brake is a piece of equipment for stopping the movement of the slide. Wet-type clutches and brakes cause an extremely small amount of friction in comparison with dry-types, thus facilitating a long life. Since they are not air-operated, noise is also reduced.