Spinning Machines
Spinning Machines and Flow Forming Machines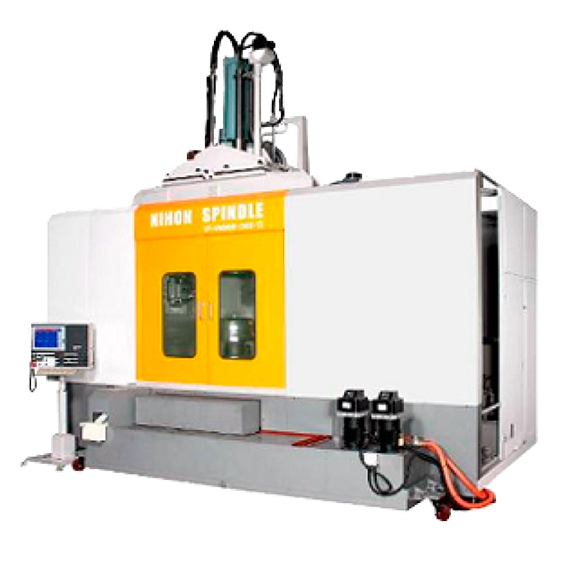 Multiproduct variable volume productions and highly value added productions are possible with spinning plastic forming, which changes the common wisdom of metal processing!
Spin processing: Carrying on the craftsmanship of artisans into the future.
The spinning process is one of rotating plastic processing, which involves forming by rotating raw material made of a metal plate or in the shape of a pipe and pressing a roller against it to shape it. The plate thickness need not be changed while the external diameter is shaped.
Flow forming process: Glass-making skills for metals Spin forming is a processing method used to bend metal plates that are relatively thin, while this method is for the proactive deformation of metals in the form of thick plates or blocks. This process is used to proactively form metal into a variety of shapes.
Click here for detailed information about Spinning Machines
1

Spin forming process

Offers a high degree of freedom in processing, making it possible to process products of complex forms that ordinarily require multiple processes when shaped by presses can be processed in almost a single chucking. Since finished plate thickness can be controlled to some extent, it is possible to abbreviate or shorten preceding or subsequent processes.
Since it is a rotating process, high degree of precision, in particular that of circularity, can be achieved in comparison with other plastic processing methods. Since processing is performed using rollers that have points of contact, the surface of the product can be maintained in an extremely clean condition.
Since the process is chipless, it is extremely effective for improving material yield.
Since processing can be completed only with positive die, die costs are relatively cheap in comparison with press processes and it is particularly suitable for multiple product small lot productions. Furthermore, the process involves an extremely small amount of consumables, making it possible to keep running costs low.

2

Flow forming process

The following are the five broad categories of processing. Forming can be achieved, for example the forming of the inner and outer surfaces of gears and splines.

The structure of processed sections becomes dense, which greatly improves strength. There are cases where this can be used to thin down plate thickness or to abbreviate heat treatment in subsequent processes.

Multiple processing is also possible by replacing tools. Thus, once a workpiece is set on the machine, a variety of flow forming methods can be employed to form complex shapes. What used to involve multiple parts welded together in the past can also be created from a single blank.

Conventional processing method

Two-piece welded structure

Flow forming processing method

One-piece forming

Since plate thickness can be changed at will, locations of boss and junctions, where strength is required, can be made with more plate thickness and other sections may be formed to be thinner to reduce material costs and weight.

3

Flow forming center (FFC)

There is test equipment permanently installed at the Flow Forming Center (FFC), used to find answers to inquiries from our customers, such as "can our equipment be converted to work with the spinning process" or "can such a shape be formed?" Responsive actions for requests from our customers for prototyping, joint development with customers, and development of our proprietary processing methods are conducted at the FFC.

Vertical type flow forming test machine

Tube processing test machine
For detailed information about the products please contact
Phone
Nihon Spindle Mfg Co., Ltd.
Web
Nihon Spindle Manufacturing Co., Ltd.