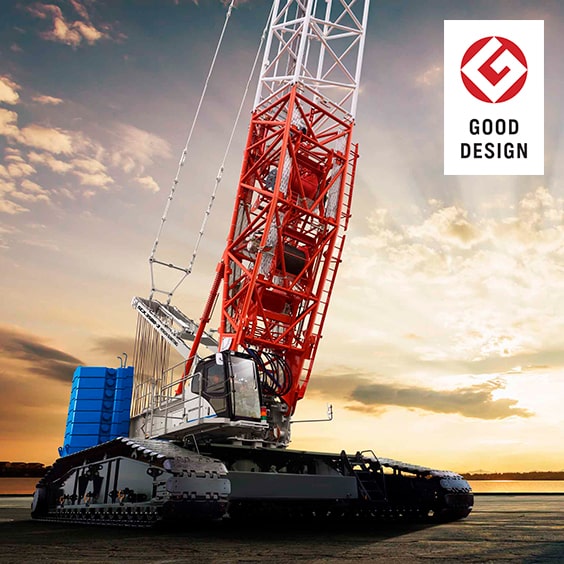 Crawler cranes working around the world to meet all kinds of material handling needs.
The crawler crane SCX-3 series won the 2018 Good Design Award.
Designed to meet a variety of needs including construction and port cargo handling,
HSC crawler cranes are mobile cranes that excel in working on soft ground.
HSC has developed all-hydraulic crawler cranes with the hoisting capacity of 55t-550t and distributes them throughout the world.
Our goal is to develop crawler cranes that are truly attractive to customers by pursuing further consideration toward environmental harmony as well as exceptional transportation performance, safety, and comfort while enhancing the basic functions required in cranes.
The crawler crane SCX-3 series won the 2018 Good Design Award (hosted by the Japan Institute of Design Promotion) for its excellent workability, safety, assembly (disassembly) performance, transportation performance, and environmental-friendliness.
Click here for detailed information about Crawler Cranes
1

Environment-friendly

Machines for building our future society require the most advanced technology. Fitted with a clean and energy-efficient engine newly developed to meet increasingly stringent exhaust gas regulations integrated with an advanced control system, HSC's crawler cranes have taken yet another step toward harmony with the environment.

2

Easy to transport and set up

Construction equipment has to be moved from jobsite to jobsite. HSC's crawler cranes are designed for easy assembly and disassembly, while achieving enhanced basic performance, so that the requirements of stringent transportation regulations can be met.
Assembly and disassembly cost reduction features include an automatic attachment/detachment capability.

3

Maneuverability and safety

It is becoming increasingly difficult to find skilled crane operators, and there is growing demand for cranes that are easier to maneuver and safer to operate. The newly developed highly responsive braking system dramatically helps facilitate working with foundation workers. Safety features including a large display system and reliable and timely voice alarms ensure a higher level of safety.

4

Reliable after-sale services

In overseas market, we provide after-sale service by our global distributor network so that they can be used in a reliable manner over a long period of time.
The remote sensing function for remotely monitoring the machine and operation conditions helps detect defect information beforehand so that maintenance time and cost can be reduced.
Cranes for Port Cargo Handling
Crane for port cargo handling
For detailed information about the products please contact
Phone
International sales group, Sumitomo Heavy Industries Construction Cranes Co., Ltd.
Web
Sumitomo Heavy Industries Construction Cranes Co., Ltd.