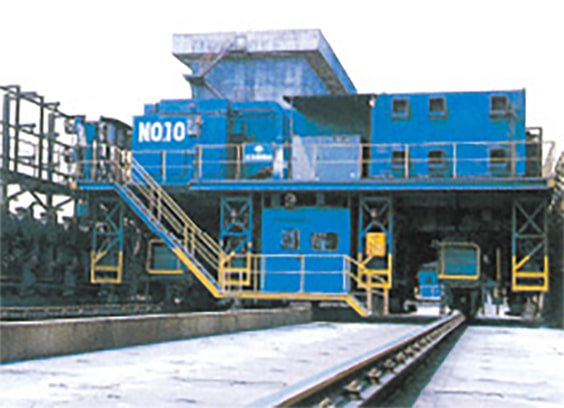 We can provide lifecycle solutions for the design, production, installation, and diagnosis of coke oven machines through technological innovation based on our vast experience and technologies.
Coke is essential for steelmaking. It is produced by steaming coal at high temperatures in a coke oven (Dry distillation), after that it is put into a blast furnace with iron ore as a reducing agent in steelmaking. Our coke oven machines work around the coke oven; feed coal into the coke oven, extrude coke from the oven, and carry it to the next process.
We provide environment-and-worker-friendly coke oven machines based on our abundant experience and technology.
Click here for detailed information about Coke Oven Machines
1

Abundant Delivery Results

We have kept over 90% market share in Japan. We can provide coke oven machines that meet customers requirements, because we have cultivated experiences and technologies for more than half a century.

2

Stable operation by diagnoses of existing machines and proposals of environmental improvement

We diagnose aging of the existing machines by distortion measurement, FEM analysis, non-destructive inspection, etc. with utilizing our abundant design know-how.
We propose the optimal countermeasures to customers.

3

Remodeling and repair of existing machines.

Utilizing our abundant delivery results from design to construction, we propose the optimal remodeling plan according to the operating conditions and requests.
1

Coke Oven Machines

Charging car

Charge coal into the carbonization room

Pusher Car

Push coke out from the carbonization room

Guide Car

Guide coke to the quenching locomotive

CTC (Guide Car)

Environment-friendly guide car that can greatly reduce the gas released from the coke oven into the atmosphere. We are the only company in Japan that uses this method.

2

Peripheral equipment

Machine side door emission collecting system

Improve emission collection efficiency with good environmental performance

Screw Feeder

Screw feeder for charging car with high environmental performance by using closed type, and stable charging by constant-volume conveyance

Self-Rotating Nozzle Gun

Coke oven door cleaner with self-rotating nozzle gun driving by high-pressure water equipment instead of hydraulic pressure models

Smart Ram

Ram beam system with coke oven observation device, width measuring device and wall temperature measuring device
For detailed information about the products please contact
Phone
Sumitomo Heavy Industries Process Equipment Co., Ltd.
Web
Sumitomo Heavy Industries Process Equipment Co., Ltd.