SPS (Simple Process Setting)
Completely revamps operability by incorporating the latest controller (NC-10)




For mistake-free operation
Operating keys are laid out to enhance operability when mounting molds and setting molding conditions, and to prevent accidents and mold damage caused by operational mistakes.
Intuitive touch-screen operation
Screens appearing on the 15.1-inch touch panel have intuitive designs with multiple pictograms that make operation easy even for first-timers.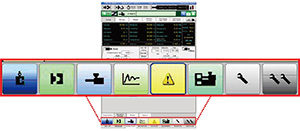 Simple setting of molding conditions
Setting items have been simplified. There are about half the settings of earlier systems, which liberates operators from complicated setting operations and enables them to set stable conditions in a short amount of time.

Protection of molding conditions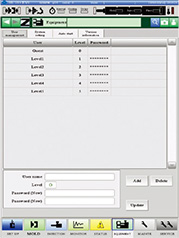 A key lock features makes it possible to manage molding conditions. As a result, problems caused by incorrect settings such as rejects being sent to post-processing and mold damage are eliminated. Moreover, because key lock codes can be set for each operator, screens and settings can be changed by individual operators.
Safe, secure mold mounting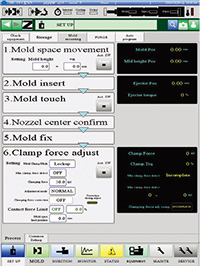 Anyone can easily mount molds by simply following the instructions displayed on the screen.
Support for global production environments
The operating system supports 15 languages, including English, Spanish, Japanese, Simplified Chinese, Traditional Chinese, Korean and more.