FFC (Flow Front Control)
FFC evolved with the latest ISCII


The screw is accurately controlled by employing the latest advances in servo control to control low inertia, high response servomotors. Moreover, enhanced accuracy in injection pressure and weighing speed detection makes plasticization, filling and pressure holding processes more precise and stable. And, filling pressure is lower and more balanced.

Further improved filling balance
Owing to the latest in ISCII, filling balance is improved even for multiple-shot molding where filling pressure can readily become imbalanced. Little difference in molding mass occurs between cavities when completely filled with a single shot, and mass variations stabilize with multiple shots.

Screw speed follow in flash processes is greatly improved even in high speed molding.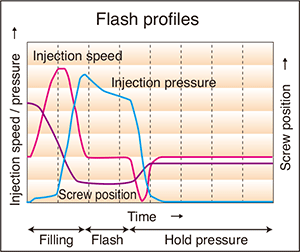 Injection speed control characteristics
The evolved ISCII improves basic performance, i.e., injection speed response, low speed injection follow, etc.