The main content of this page begins here.
Activity Report

Society

Through the promotion of clean procurement initiatives for materials that are necessary for business activities and by providing assistance and contribution to regional activities, we are making every effort to gain the trust of the greater society. In addition, by collaborating with related vendors, we are able to develop procurement guidelines and comply with various laws and social norms, ensuring that corporate value can be mutually increased.
Promotion of Clean Procurement Activities
The realization of clean procurement is an important element that forms a part of the SHI Group's ability to tackle social issues through the provision of its products and services. With this in mind, we are taking the following actions in sequence:
1

Formulation and Publishing of CSR Procurement Guidelines
A CSR Procurement Guideline that defines the items that SHI Group suppliers should aspire to promote has been formulated.
CSR Procurement Guidelines

The SHI Group aims to supply products and services that contribute towards economic and technological development with the broader goal of realizing a more sustainable society. With this in mind, a CSR Procurement Guideline has been formulated to meet these goals. Cooperation from suppliers is essential for this goal to be achieved, and it is SHI Group's sincere hope that suppliers understand and make every effort to promote the items set forth in these guidelines.

1.

Discrimination / Labor / Health and Safety

Respect for race and elimination of discrimination and workplace harassment

There shall be no tolerance for discrimination or workplace harassment based on a person's age, sex, nationality, race, place of birth, religion, beliefs, educational background, employment status, mental and physical handicap, or marital status.

Compliance with Labor Laws

Labor laws of the country or region that the supplier operates in shall be complied with and suitable health and safety conditions shall be ensured (including providing funding to ensure suitability). In addition, forced labor conditions or situations in which underage workers are allowed shall be prohibited.

2.

Fair and Impartial Competition and Transactions

Ensure that competition and transactions are fair and impartial

The laws of the country or region that the supplier operates in shall be complied with and actions that may limit or obstruct fair and impartial competition or transactions shall be avoided.

Protect and respect intellectual property

The intellectual property rights of third parties (patents, utility models, designs, programs, copyrights, trade names, brands and others revenue generating rights that are protected by law) shall be respected and the infringement of such rights shall be avoided.

Eliminate the inappropriate sharing of income

The laws and business norms of the country or region that the supplier operates in shall be complied with the inappropriate sharing of income or requirement for services shall be avoided.

Compliance with import and export laws

Laws relating to trade shall be complied with and appropriate import and export procedures shall be followed.

Preservation of confidentiality

The acquisition, use, disclosure or leakage of confidential information, technological information or personal data shall be avoided.

3.

Compliance with Laws and Ethics

Compliance with various commercial laws

The laws of the country and region that the supplier operates in shall be complied with and a high level of compliance activities shall be thoroughly implemented.

Cut off any ties with anti-social forces

A firm stand against anti-social forces shall be taken and any ties with such forces shall be avoided.

4.

Increase Product Competitiveness and Customer Satisfaction

Ensure quality and safety

Supply products and services that not only satisfy product safety laws but also meet the quality and user specifications of SHI.

Enhance product competitiveness

Promote VE bids that contribute towards cost reductions and the supply of information relating to methods/technologies/materials that are optimal.

Stable supply

Ensure that the delivery of products and services are on-time and establish and maintain an operational structure that ensures that supply is stable.

5.

Protection of the Environment

Compliance with related laws

The environmental laws of the country and region that the supplier operates in shall be complied with.

Implement activities that target a zero environmental loss frequency

Environmental risk assessments shall be continuously implemented and a zero environmental loss frequency shall be targeted.

Contribute Towards the Realization of a Low-Carbon Society

We are making every effort to develop energy-saving products that actively promote the efficient use of electricity and fuel as well as the reduction of its consumption.
SHI Group's Basic Policy on Conflict Minerals from the Democratic Republic of the Congo and surrounding areas

In the Democratic Republic of Congo, armed anti-government groups are forcing residents in the region to mine tin, tungsten and tantalum (hereinafter referred to as "Conflict Minerals") and are using the proceeds of the sale of these Conflict Minerals to fund their activities. In addition, the level of organizational violence against the residents of the region has elevated this issue to become an international humanitarian cause.
The "Dodd-Frank Wall Street Reform and Consumer Protection Act" was put into place in July 2010. Section 1502 of the law that was adopted on August 22, 2012 sets out the "Final SEC Rule on the Disclosure of the Use of Conflict Minerals". Through this rule, companies with shares listed on US stock exchanges are mandated to provide an annual disclosure of the use of Conflict Minerals in its products.
In order to meet our social responsibility, the SHI Group's basic policy is to not be complicit in the procurement of Conflict Minerals. Based on this policy, the SHI Group is discussing and promoting the necessary framework and actions. SHI Group's sincere hope is that suppliers understand our basic policy and makes every effort to promote similar activities in their business operations.
2

Briefing Seminar on SHI Group's CSR Initiatives and CSR Procurement Guidelines for Suppliers
Each business division explain SHI Group's CSR initiatives and its CSR procurement guidelines at regularly scheduled supplier briefings.
Regional Assistance and Contribution
The SHI Group including its affiliated companies manages and operates businesses including manufacturing plants and sales offices spanning many different locations. At each of these locations, the SHI Group carries out activities that aim to provide regional assistance and contribution. For example, we carry out regional clean-up activities, cooperate on blood drives, enter into disaster protocols with municipalities, participate in regional festivals and/or sports days, and invite regional residents to tour our manufacturing plants.
SHI Group believes that the company's contribution to society can have real substance if we not only provide products that improve people's lives but also gain the understanding and support of residents that live in close proximity to our manufacturing plants through such activities.
1

Regional Clean-Up Initiatives
The SHI Group participates in clean-up activities in the neighboring areas of the Niihama Works as well as around the Osaki where the head office building is located.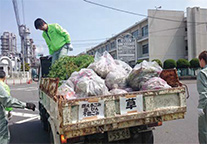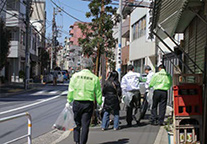 2

Educational Assistance Activities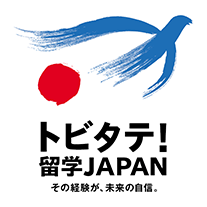 SHI supports the Ministry of Education, Culture, Sports, Science and Technology (MEXT) led "Tobitate! Ryugaku Japan" campaign which looks to promote student education abroad. The campaign's aim is to nurture human resources that are able to flourish in an international setting in the future.
Sumitomo Heavy Industries Environment Co., Ltd. continues to provide tourism education to elementary school students through participation in regional events around Minamiashigara City.
Sumitomo(S.H.I.) Construction Machinery Co., Ltd. hosts the "Sumitomo(S.H.I.) Construction Machinery Co., Ltd. Youth Baseball Seminar" as part of its social contribution activities. The event that started in 2004 with the aim to nurture and re-energize youths in the region has now been held for almost 60 times.
Sumitomo Heavy Industries Marine & Engineering Co., Ltd. continues to support the "B&G Tokyo Bay Marine Experience Academy" which is hosted by the Blue Sea and Green Land Foundation. Children from around Japan are invited to join the program which includes a tour of SHI's shipbuilding plants, an experience boarding a tanker vessel that is under construction, try their hand in design through 3-D CAD modeling, and participate in a welding simulation exercise.
Sumitomo Heavy Industries Gearbox Co., Ltd. continue to accept third-graders from Nishi Elementary School of the neighboring Kaizuka City for factory visits as part of their education field trip. We show our manufacturing floor for transmission and reduction gears and let children know how our work is contributing to the society, thereby supporting their community-based education program.