The main content of this page begins here.
Communication with the Local Community
Communication with the Local Community
Participating Actively in Local Community Events
The Sumitomo Heavy Industries Group takes active part in events held in local communities. The Niihama Factory took part in the Saijo City Ofuki Area Friendship Sports Day as part of the Ehime Prefecture Support Group Matching Project for Healthy Village Development, with the aim of regional revitalization. Many people here in the Ofuki area are elderly, and the sports days were suffering from a shortage of participants. Since the community also requested it, we began taking part in the event from fiscal year 2011.
The weather was ideal on Sports Day in 2014, making for a highly enjoyable and meaningful day-long event that enabled exchange with residents of local communities and large numbers of volunteers.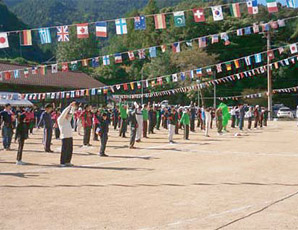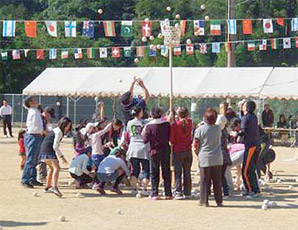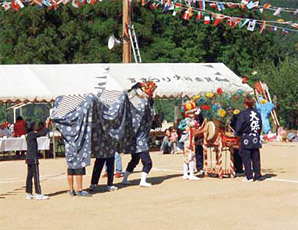 Cleanup Activities
In the Sumitomo Heavy Industries Group, we carry on regular cleanup activities in the areas around our works. We also participate in cleanup activities organized by local government bodies and volunteer groups.
In addition to cleanup activities in the neighborhood of our works, during fiscal year 2014 the Nagoya Works and Sumitomo NACCO Materials Handling Co., Ltd. also participated in the Adopt Program* organized by Obu City in Aichi Prefecture, while the Niihama Factory took part in the Adopt Program of Niihama City. All these activities involve continuing engagement in cleanup of neighboring areas.
The Nagoya Works has been taking part in this Adopt Program since 2004. In 2014, we held cleanup activities in the area around the works on six occasions, with about 30 people participating each time. We are continuing this activity in the same way in 2015, as well.
The Sumitomo Heavy Industries Group will continue with this commitment to beautification of the local environment.
*

Adopt Program:
A volunteer campaign in which people designate a public facility, such as a park or a footpath, and register it with the city. They then pick up trash, water the plants, and weed the designated facility so that people will be able to enjoy using it.
Cleanup activity (Niihama Factory)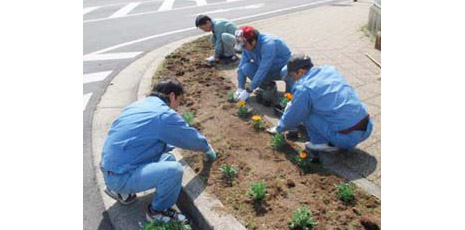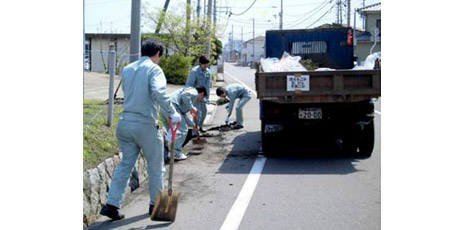 Students from Yokosuka Lower Secondary Schools Tour Our Environmental Activities
Our Yokosuka Works in Kanagawa Prefecture is taking measures to reduce CO2 emissions and waste materials. We are also actively engaging in communication with local communities as part of our environmental activities.
In 2014, we invited local lower secondary school students to tour the Yokosuka Works. They observed the status of waste separation for recycling, toured our wastewater treatment facility and water quality monitoring system, looked at our environmentally friendly products, and gained a deeper understanding of the environmental measures we are taking at Sumitomo Heavy Industries.
Tour of on-site environmental activity at our works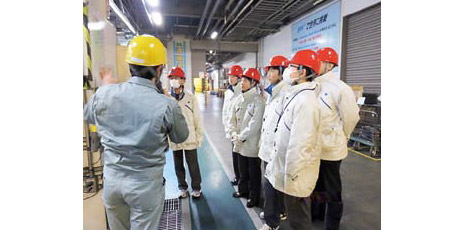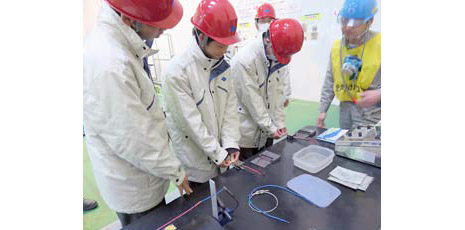 Environmental Education for Elementary School Students
Sumitomo Heavy Industries Environment Co., Ltd., exhibits every year at an environmental exhibition in Minamiashigara City, Kanagawa Prefecture. We also conduct an annual environmental education event mainly for local elementary students.
At the environmental exhibition in fiscal year 2014, we gave a close look at water-related topics. This included a microscopic display of microorganisms used in water treatment, observation of waterside organisms and a comparative analysis of the calcium content of commercially available mineral water. We showed the organisms that live in clean rivers and polluted rivers, explained the differences between them and conveyed the importance of protecting river environments.
We intend to keep up these activities in the future, and continue communicating to children the importance of environmental protection.