The main content of this page begins here.
Contributing to Protection of the Global Environment through Products
Contributing to Protection of the Global Environment through Products
Compliant with Standard Specifications in the RoHS Directive
Small Size Gear Motors
(Hyponic Gear Motor, Altax®NEO, Prest®NEO, Astero®)
With a capacity in the 2.5W - 15kW range, these compact motors for speed reducers are used in the drive parts of conveyors, food processing machines, packaging machines and assistive products etc. Compliant with the EU directive on Restrictions of Hazardous Substances (RoHS Directive), the products are safe and environmentally friendly.

Power Transmission and Controls Group
Helps Reduce Waste

Pelletizing Recycling System
This system re-pelletizes the mill ends generated in plastic film production and other processes to recycle them into raw materials, reducing waste by reusing mill ends and defective products.
Sumitomo Heavy Industries Modern, Ltd.
Contributing to QOL (Quality of Life)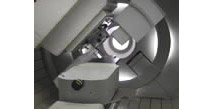 Proton cancer therapy equipment
This is one of a range of radiation therapy devices.Compared to regular x-rays, it is capable of pinpointing and picking off cancerous cells for outstanding therapeutic value that is gentle on the body of the patient. We have developed a device that is more compact than the conventional ones.
Industrial Equipment Division
Helps Reduce Waste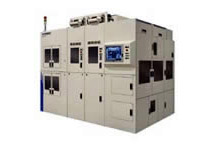 Semiconductor Encapsulating System
This device encapsulates semiconductor IC chips using resin. It reduces burr at the time of molding and curtails the volume of waste generated.
High-Performance Roll that Conserves Resources and Energy
Centrifugally Cast High-Speed Roll
A mill roll used in iron-making.
The use of different materials for the outer shell layer and inner core ensures wear resistance and economic efficiency at the same time.

Sumitomo Heavy Industries Himatex Co., Ltd.
Longer Operating Life for Consumables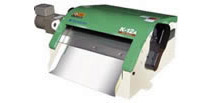 Magnetic separator
Purifies grinding lubricant and cutting fluid, extending the lifecycle of the fluid. In addition to minimizing top-ups and cutting down on liquid content in recovered waste, the frequency of changing filters is reduced due to the high-efficiency magnetic separator.
Sumitomo Heavy Industries Finetech, Ltd.
Reducing CO2 by Using Biomass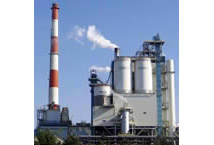 Circulating fluidized bed boiler
In addition to using biomass fuel for power generation and contributing to reduced CO2 emissions, the facility can also be adapted to waste fuel such as tires.
Energy and Environment Group
Rendering Industrial Waste Harmless and Recycling Resources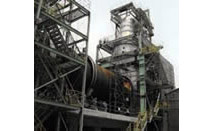 Sumitomo W+E Rotary Kilns
This facility incinerates and melts down industrial waste, rendering it harmless, and recycles resources (recovering metals, turning to slag). The facility contributes to recycling and a reduction of the environmental burden.
Energy and Environment Group
Effective Use of Petroleum Resources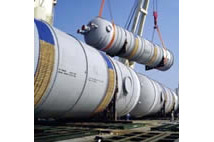 Coke Drum
This equipment is used in theoil refining process.
Itpyrolyzes heavy oil to collectvaluable light oil such as gasoline. This unit converts heavy oil, now limited in use,into light oil.
Sumitomo Heavy Industries Process Equipment Co., Ltd.
Reduce CO2 by Generating Renewable Energy
Steam turbine for private power generation
Used to generate renewable energy (power generation fueled by renewable energy) with the aim of reducing CO2.
Shin Nippon Machinery Co., Ltd.
Clearing the International Norm for Efficiency Standards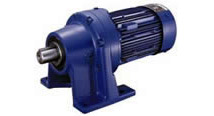 Speed reducer with high-efficiency motor
We have done a thorough review of energy loss in the motor to achieve an average reduction of 10%. Clearing the IE2 international standard for efficiency, the motor contributes to energy conservation.
Power Transmission and Controls Group
Contributing to Biomass Power Generation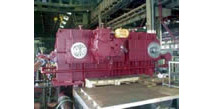 Gearbox for power generating equipment
An important component for biomass power facilities.
Rotating at high speeds, the dynamic force of the large-scale turbines is transmitted to the power generator securely and without waste.
Reduced Power Consumption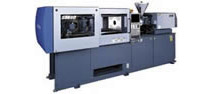 Fully Electric Controlled Plastic Injection Molding Machine
In this machine that produces plastic products by pouring molten plastic into a mold and shaping it, the electric drive system replacing the hydraulic drive realizes substantial reductions in power consumption.
Plastics Machinery Division
Reducing Power Consumption
SICERA®Cryopump
Ultrahigh vacuum pump used in semiconductor production processes and other applications that reduces power consumption by separately optimizing and operating multiple cryopumps and the minimum number of compressors.
Precision Equipment Group
Improving Efficiency of Power Generation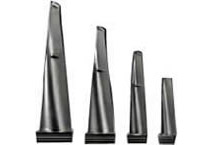 Blades for gas turbines
Our advanced, integrated blade manufacturing technology is applied to these blades, which require more complexity and more exacting precision to improve power generation efficiency.
Semiconductor device with lower voltage and lower power consumption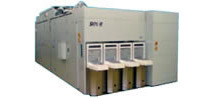 Ion implantation system
Used in the semiconductor manufacturing process and elsewhere, the system implants ion in silicon wafers.
Tracking the rapid evolution in semiconductor technology, the system implements lower voltage and lower power consumption.
Superior Diffusion Performance Enables Energy Conservation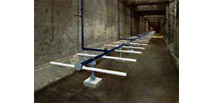 Micrus®Superfine-bubble membrane tube
This equipment diffuses ultrafine air bubbles into factory effluent and sewage to provide efficient purification of wastewater. There are an energy-conserving effect of a superior diffusion performance and a cost reduction effect due to simple maintenance.
Sumitomo Heavy Industries Environment Co., Ltd.
Compact Facility with High-Speed Separation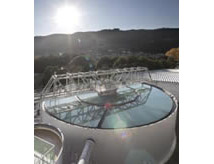 Coagulation sedimentation system Sumi-Thickener®
Coagulates suspended particles contained in waste water by high-speed separation. Highly efficient and compact facility making effective use of space and contributing to lower running costs.
Sumitomo Heavy Industries Environment Co., Ltd.
40% or More Reduction in the Sludge Output
Dires®Sludge Reduction System
A system that controls excess sludge discharged from effluent treatment facilities through the use of microorganisms. This system significantly reduces initial costs and running costs compared to conventional mechanical systems or systems that use chemicals.
Sumiju Environmental Engineering Inc.
Reducing Electricity Consumption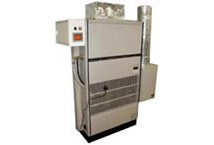 Air-conditioning control system, Kurieko II
An air-conditioning control system that is able to keep the temperature within ±1°C and the humidity within ±5% of the set values. With a superior control system, this system reduces power consumption by 60% compared to conventional systems.
Nihon Spindle Mfg. Co., Ltd.
Extending Adaptable Applications for Streamlining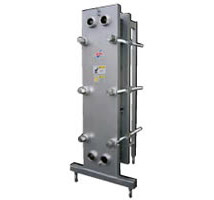 NT-type plate heat exchanger
Heat exchanger for use in food production. Contributing to streamlined production, this product group is adaptable to a range of liquid shapes from low to high flow properties.
Izumi Food Machinery Co., Ltd.
Conserving Energy on Ships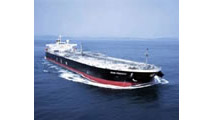 Oil tanker
Achieves energy conservation performance at international top levels by combining the optimum ship design with energy-saving additions and high-efficiency propellers of our own development.
Sumitomo Heavy Industries Marine & Engineering Co., Ltd.
Contributes to Processing SOx, NOx and Dioxin in Exhaust Gas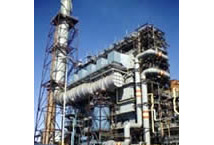 Dry-type desulphurization-denitrification system
The exhaust gas processing facility uses a moving bed of activated charcoal to process SOx, NOx, dioxin, dust and mercury. Since it is possible to use one device for desulphurization, denitrification and to remove dioxins, energy consumption can be reduced over conventional facilities.
Energy & Environment Group
Reducing Power Consumption by Building Compact Devices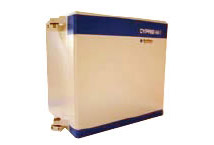 Ultra-Compact Cyclotron (HM-7) for PET Diagnosis
The device produces the pharmacological agent (labeled compound) for PET (Positron Emission Tomography) examinations, one type of cancer diagnosis. Being about half the size of conventional units, it helps reduce the power consumption and the generation of waste at hospitals
Industrial Equipment Division
20% Reduction in Power Consumption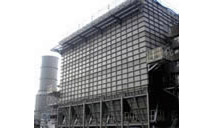 Pulse dust collector
A facility for removing dust from soot and smoke emitted by steelworks. Improves the flow of air and reduces power consumption by 20% compared to conventional facilities.
Nihon Spindle Mfg. Co., Ltd.
Low-Noise, Cuts Maintenance Costs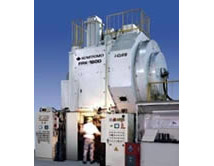 Wet clutch and brake for forging presses
This clutch and brake unit for activating and stopping the rotary shaft reduces noise levels by 10% compared to air-powered and dry units. The airless operation also reduces running costs.
Industrial Equipment Division
Contributes to High Energy-Conservation Effect and Zero Emissions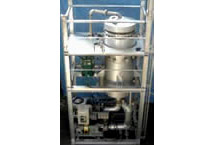 Mini-evaporator
We have developed a compact unit for the high-performance falling film plate evaporator. As well as implementing a high energy-saving effect, the unit collects water and valuable resources from waste water and contributes to zero emissions.
Sumiju Plant Engineering Co., Ltd.
60% Reduction of Fuel Consumption with Hybrid Power Supply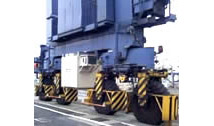 Sybrid SystemTM
Mounted on container cranes, energy generated when decelerating and lowering containers is stored and used to support hoisting operations.
Sumitomo Heavy Industries Material Handling Systems Co., Ltd.
Reducing CO2 and Cost of Running with Hybrid Construction Machinery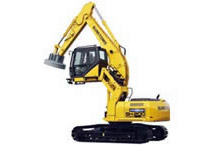 SH200HB-5 LM specification
The magnet specification machine is primarily used for scrap work. Energy generated when decelerating for swiveling action powers the machine, drives the motor and supports engine output. Aimed at improving fuel consumption.
Sumitomo (S.H.I.) Construction Machinery Co., Ltd.
Contributing to CO2 Reduction with Electric Forklifts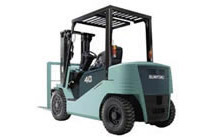 Counter-balanced electric forklift
Quick operation using an AC motor. The side-extracted battery can be adapted to long running times.
Contributes to CO2 reduction, energy conservation and noise reduction compared to the internal combustion engine.
Sumitomo NACCO Materials Handling Co., Ltd.
Treating Several Distillation Processes in One
Column-in-Column®(CIC) distillation column (Dividing-wall distillation column (DWC) from Sumitomo)
A single unit capable of handling several distillation processes in one facility. More than a distillation column, it also allows for the reduction of peripheral equipment to curtail initial investment and running costs.
Sumiju Plant Engineering Co., Ltd.