The main content of this page begins here.
Stronger Environmental Management at Our Overseas Factories
Stronger Environmental Management at Our Overseas Factories
Sumitomo Heavy Industries Group is strengthening environmental risk management and expanding the acquisition of ISO 14001 certification at factories outside Japan.
Stronger Environmental Risk Management
Strengthening arrangements for tracking legal and regulatory information and environmental management systems in Group companies in other countries
Environmental Risk Assessment
Local environmental regulations and other such requirements have been made more stringent at our factories outside Japan. In order to comply with legal requirements, we are receiving guidance from the authorities, and we are working to reinforce our environmental management systems while adapting them to local characteristics.
In FY2013, we introduced environmental risk assessment to our factories in China and Southeast Asia, where environmental risks are relatively high. We are gradually expanding environmental risk assessment of the higher risk facilities at each of our factories and working to reduce the risks. This includes, for example, quality management of waste water, standards-based management of emissions from paint facilities, and control of oil leaks in machine tools. With this risk assessment, we are promoting the horizontal deployment of knowhow for dealing with environmental risk experienced in the past by factories of the Sumitomo Heavy Industries Group in Japan.
Management Systems in China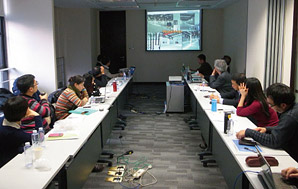 By region, the largest number of Sumitomo Heavy Industries Group factories in operation outside Japan is found in China, which has eight. Special environmental management systems have been instituted there. In order to provide centralized environmental management operations for our Chinese factories, we have established a department to provide overall environmental management supervision at Sumitomo Heavy Industries (Shanghai) Management, Ltd. as the base for our Group in China. A full-time manager has been assigned to the department, which provides every factory with guidance on environmental management operations in light of local circumstances, including guidance on changes in local environmental laws and regulations.
It is also the case in the China area, as in Japan, that we hold environmental management meetings twice every year. These meetings bring together the environmental managers from each of our factories in China to hear explanations of environmental policy from the Environmental Management Division of the head office as well as to present reports on the environmental management situation at each factory. We are taking these measures to raise the level of environmental management in the China area as a whole.
From FY2013, we began to rotate the meeting venue from factory to factory. The meetings are used not just for coordination but to promote activities to strengthen environmental management in more practical ways, such as by carrying out on-site patrols of the factories that also look into energy conservation concerns.
Promoting Environmental Audits at Factories Outside Japan
The head office Environmental Management Division periodically conducts environmental audits of factories outside Japan.
Since fiscal year 2012, these environmental audits at factories outside Japan have been applying the same audit standards as at factories in Japan. We are checking the environmental management activities at each factory in order to reduce the environmental risk to the same level as at factories in Japan.
The audits are carried out at a frequency determined according to the environmental risk of the particular factory taking local environmental requirements into consideration. In fiscal year 2014, we carried out environmental audits at 10 of our factories in China, Southeast Asia and the United States.
When environmental audits are conducted, at the same time we also give environmental managers and officers training in activities for environmental accident prevention and energy conservation.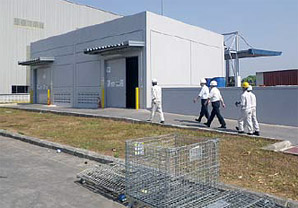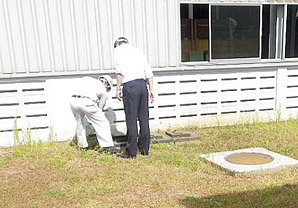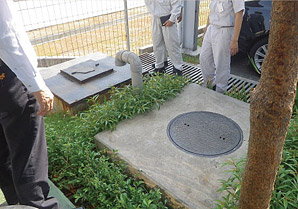 Improving waste management at factories in other countries
Factories of the Sumitomo Heavy Industries Group in other countries engage in more than complying with local statutory requirements relating to waste management. They are also working to lower waste emissions according to our Company standards and promoting activities to reduce the rate of disposal by landfill.
Every overseas factory of the Sumitomo Heavy Industries Group follows procedures with regard to industrial waste at its location similar to those in Japan. They are required to separate waste material generated by production activities and so on from general waste and handle it by various statutory management methods.
These waste materials are referred to, for example, as hazardous waste, and various requirements are imposed. For instance, advance notification must be given of the yearly scheduled volume of waste release, it must be discharged to a waste treatment contractor with a government license, management records must be kept of individual waste emissions, and those records must be submitted to the government. Every factory of the Sumitomo Heavy Industries Group implements strict control of waste material in accordance with laws and regulations at its location and the guidance of local government.
In order to reduce their environmental impact, Sumitomo Heavy Industries Group factories in other countries are also taking measures to reduce the percentage of waste disposed of as landfill, setting their own environmental targets for reduction.
They have been setting their own quantitative environmental targets for this purpose since fiscal year 2011, in the form of reduction targets for the rate of disposal by landfill. In order to meet these targets, each factory is separating waste and promoting activities to raise the recycling rate as much as possible.
Sumitomo (SHI) Cyclo Drive China Ltd. in Tianjin began sorting and collecting waste by category in December 2010. They have been strengthening their waste management methods for more rigorous implementation of sorting and collection of waste generated within the factory.
Efforts to implement more rigorous separation of waste include improving the labels on waste receptacles. Photographs of the waste materials actually generated at that site are attached to the top of receptacles in order to display the separate waste categories in a more readily understandable way.
This easy-to-understand method has been introduced as a model waste separation and collection method at other Group factories in China and Southeast Asia. This has contributed significantly to improving waste treatment methods in the Sumitomo Heavy Industries Group as a whole.
We are also strengthening waste management every year in order to prevent environmental accidents at waste storage locations within our factories.
At outdoor waste storage points, we are placing fences around rainwater inlets and taking other such steps to prevent waste oil and rainwater contaminated by waste material from entering the factory's rainwater drainage channels. Waste management is being reinforced in such ways with a view to preventing environmental accidents.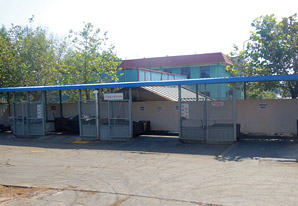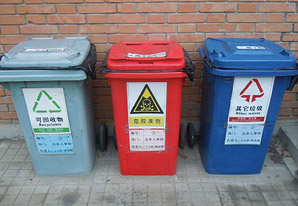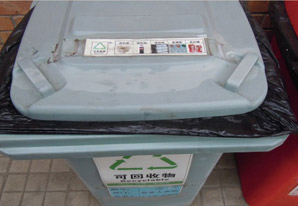 Measures to Reduce Volatile Organic Compound (VOC) Emissions at Factories in Other Countries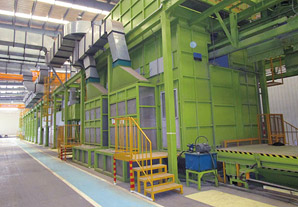 We are taking measures to reduce VOC emissions at Sumitomo Heavy Industries Group factories in other countries, even at factories where this is not legally required, as part of our own activities to reduce emissions of toxic chemical substances.
Solvents used to dilute coatings account for 90% or more of VOC use in the Sumitomo Heavy Industries Group. The VOC are emitted into the atmosphere during coating and drying.
VOC emissions are reduced by the operation of solvent collection and removal equipment. We are also taking additional measures to reduce the amounts of VOC used, for instance by expanding the application of powder coatings that do not use solvents and by adopting low-solvent coatings.
The coating factory at Sumitomo (S.H.I.) Construction Machinery (Tangshan) Co., Ltd. (hereafter, Tangshan Construction Machinery) in China is among the largest at Sumitomo Heavy Industries Group factories in other countries. It applies coatings to hydraulic excavator parts, completely assembled vehicles and other such items requiring high coating quality.
One section of a new coating factory that entered fullscale operation in the last fiscal year does not employ VOC absorption treatment with activated charcoal filters at exhaust gas outlets, which is the usual system for VOC reduction. Instead, we have introduced a waste treatment facility that uses a concentration-incineration system.
As its name implies, this concentration-incineration system concentrates the VOC in exhaust gases, then puts it through incineration and oxidative decomposition. The amount of VOC is kept at a low level in the discharge from this system. This waste treatment facility also has an energy-saving function. The heat from VOC incineration, for example, is further put to effective use to reduce the amount of fuel used as a VOC combustion aid.
Expanding Number of ISO 14001 Certifications
ISO 14001 certification by 16 factories of 15 companies
The Group is working to further the acquisition of ISO 14001 external certification by our factories outside Japan. A new recipient of ISO 14001 certification in fiscal year 2014 was Tangshan Construction Machinery in China.
We now have a total of 16 factories of 15 companies that have acquired certification. Under the 4th Medium- Term Environmental Plan, we will expand this to 17 or more companies.
ISO 50001 Certification Acquired
The Group's first ISO 50001 certification acquired
Sumitomo (SHI) Cyclo Drive Germany GmbH in Germany acquired ISO 50001 certification in energy management systems in December 2013.
Group companies outside Japan that have received the ISO14001 certification
| Company name | Date of Certification |
| --- | --- |
| Sumitomo (SHI) Demag Plastics Machinery GmbH (Wiehe factory) | April 1998 |
| Sumitomo (SHI) Cyclo Drive Germany GmbH | March 2006 |
| Sumitomo (SHI) Cryogenics of Europe, Ltd. | June 2008 |
| Ningbo Sumiju Machinery, Ltd. | September 2008 |
| Dalian Spindle Cooling Towers Co., Ltd. | December 2008 |
| SHI Manufacturing & Services (Philippines) Inc. | January 2011 |
| Sumitomo (SHI) Cyclo Drive China Ltd. | May 2011 |
| Sumitomo (SHI) Demag Plastics Machinery GmbH (Schwaig factory) | July 2011 |
| Link-Belt Construction Equipment Company, L.P., LLLP | August 2011 |
| Suminac Philippines Inc. | September 2011 |
| Sumitomo Heavy Industries (Tangshan), Ltd. | March 2012 |
| Demag Plastics Machinery (Ningbo) Co., Ltd. | December 2012 |
| Sumitomo Heavy Industries (Vietnam) Co., Ltd. | May 2013 |
| Sumitomo NACCO Materials Handling (Vietnam) Co., Ltd. | June 2013 |
| Sumiju Magnet (Kunshan) Co., Ltd. | November 2013 |
| Sumitomo (S.H.I.) Construction Machinery (Tangshan) Co., Ltd. | November 2014 |